Skip to Content
Trenchless Waterline Replacement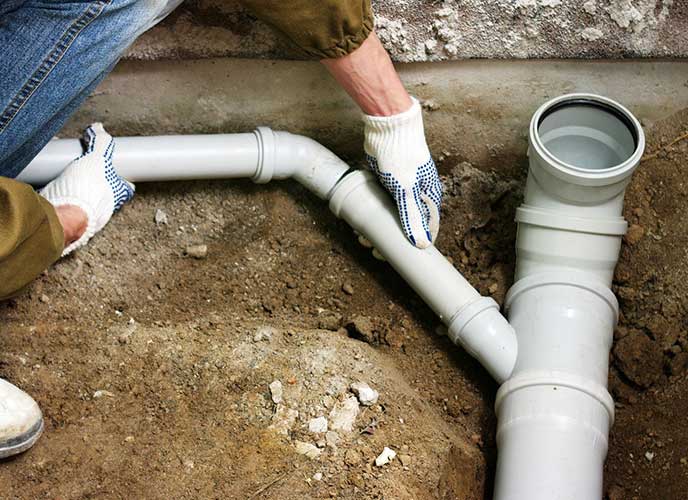 Trenchless water line replacement avoids the need to dig up entire lawns to replace damaged water pipes. It can cost thousands of dollars to dig, repair, and re-landscape. The replaced pipe may still have a limited lifespan. However, by going trenchless, a plumber can fix your water pipes, and it will take the HVAC company much less time to complete repairs.
The process involves creating small openings on either side of the piping run. New piping can be guided into place, or an epoxy lining is inserted and expanded, which then hardens to form a new pipe. The hardened material forms within the broken tube, forming a leak-proof, chemical-resistant lining that can last for many years.
Why Consider Trenchless Pipe Replacement?
The technique can be used to fix nearly any pipe problem in a home or business. People often avoid such repairs because of the expense, the concern that more issues will arise from the plumbing work, and skepticism as to whether the problem will be permanently fixed.
However, trenchless plumbing is the right choice if:
Pipes underneath the home, building, or landscaping have cracked, become blocked, or have burst.
Leaks and water line or sewer backups occur due to defects or improperly installed pipe.
Pipes have been damaged by repeated freezing and thawing cycles.
You'll need water line replacement if there are signs of damage. If so, there is a risk of having poor water quality; water damage to your home, business, or property; and proliferation of mold, mildew, or pests. Any of these will contribute more problems and expenses. Going trenchless is more than convenient and practical; it is also more beneficial.
The pluses include:
Reduced Exposure: Digging into the ground to reach your water supply comes with the risk of contaminating it. Exposing your family to such toxins can put them in harm's way. Trenchless technology is safer, more environmentally friendly, and greener.
Durability: Advanced methods of replacing pipes are more durable and can last over 50 years. Traditional repairs to pipe tend to be inherently fragile. The material that replaces or relines pipes is much more durable, and you eliminate any processes that can damage existing pipes.
Efficiency: Trenchless waterline replacement conserves many resources, from cash to time. You avoid waiting days, weeks, or months for water lines to be fixed. Often it can be done in less than a day. Not only do you avoid digging up the yard or front lawn, you also have completely functional, long-lasting pipes within hours.
Contact Speedy Plumbing & Rooter Today
Properly maintaining pipe means toxic compounds won't threaten your water supply. Mold and pest infestations are less likely as well. If underground pipe repair seems to be in your future, contact Speedy Plumbing & Rooter. The trenchless company will stop any leaks, no matter how old the water line is and why it failed in the first place. Damage from cold, wear, or tree roots can be easily corrected.
Call 604-951-9701 in Vancouver today for prompt service and repair.